just a note 2 say...

Welcome to CarolConnors.com
---
Imagine, now you can have Carol perform a song at your special corporate event.
CC (as she prefers being called) is an academy award singer/song writer and is currently working on projects across the globe.
Feel free to contact her manager, Rick Frio, at 323-851-3550 or 323-874-6060. Or Email Rick.

Or, Email Carol here.
Check out the Galleries section for some of CC's photos.
It's Oscar night! ABC catches up with Carol on the Oscars red carpet for an interview about her Oscar-nominated song, "Gonna Fly Now", the theme from Rocky, so, naturally, she sings!
YO I AM IN TEARS .. OF JOY AND UNDERSTANDING WHAT AN EMOTIONAL PART "GONNA FLY NOW" PLAYED IN THE LEGENDARY FILM "ROCKY"
.. AND IN LIFE 2222222222222222 .. IT IS OSCAR TIME AND THIS JUST WENT UP ON THE OSCAR WEBSITE AS I RETURNED FROM SINGING 4 THE LEGENDARY CONNIE FRANCIS.
---
Use the buttons above to control the play of"The Theme from Rocky", co-written by Carol .
(Turn it off before listening to other songs on my website.)
---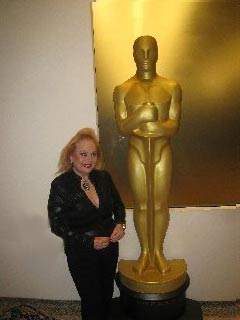 CC At The 2015 Oscars
What a season its been!

So many great parties, starting in the Fall, leading up to Oscars Night, and somehow CC found a way to be at all of them while never duplicating an outfit!

Check it out below! Got a fave? Let her know!

And the winner is.....
---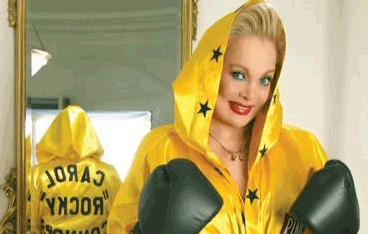 The story of Carol Connors is a fascinating one. Here's a beautifully – written story about her that recently appeared in The Jerusalem Post.
---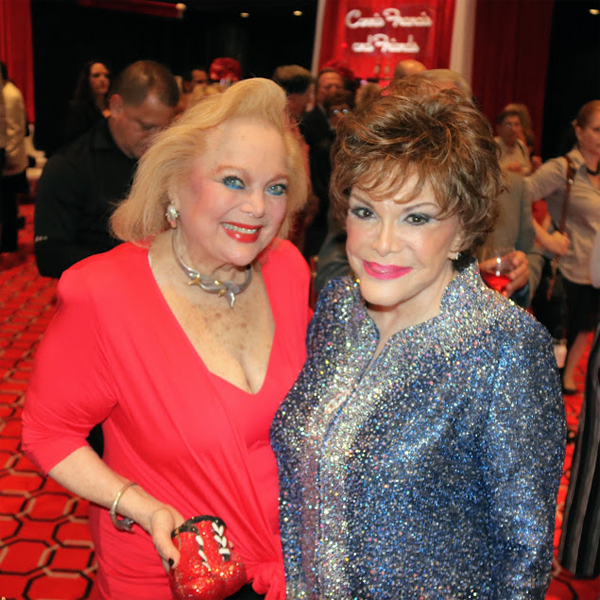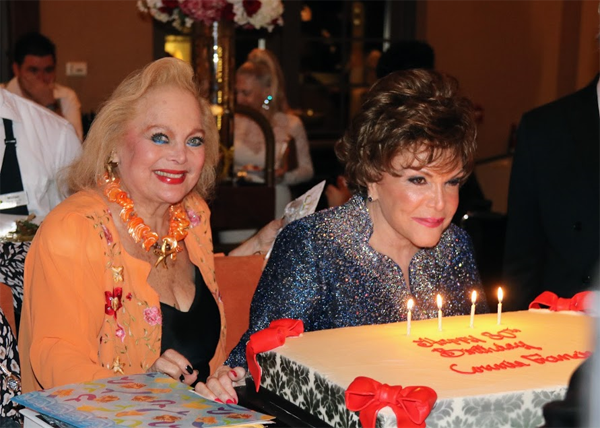 Carol Connors celebrates Connie Francis' Birthday (above 2 pictures)!
---
2013 National Spokesperson for Adopt-a-Cat month!
Carol Connors, two-time Oscar-nominated songwriter, world-renowned singer and entertainer, and lifelong cat-lover has been named the National Spokesperson for Adopt-a-Cat month by the American Humane Association, at a gala event in Las Vegas that featured celebrities and their dogs and cats, and entertainment by Carol. Here are some memories from the event, and a performance by Carol of her lovely new song, "Unconditional Love, Unconditionally"
See a slide show of Carol and her friends at the event here.
Read more about this star-studded evening here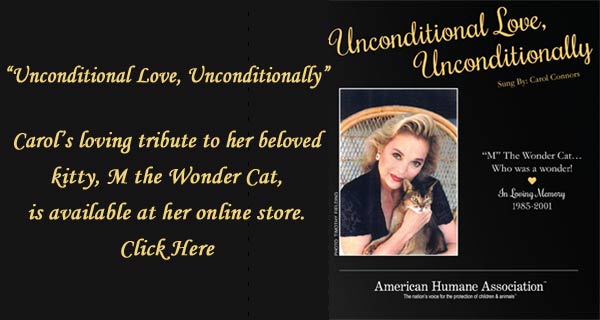 Interviewed by Megan Blake for PetLifeRadio, Carol talks about her mission with AHA Cat Adoption Month. You can hear Carol and Megan chatting about AHA, kitties, and Hero Dogs on this full podcast of the show.
ALSO: See the headline article about CC in Desert Pet Companion
---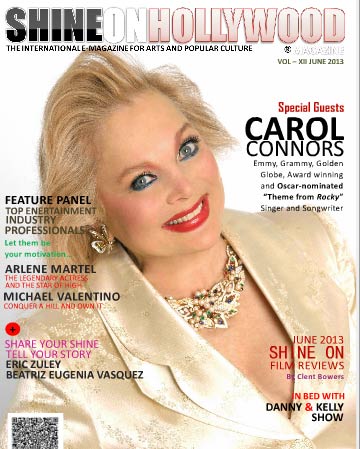 Carol's Most Intimate Interview Yet
That's what Shine On Hollywood said of her interview. You won't want to miss this one!
Click here and then advance to page 18
---
It's Oscar Time Again...
...and CC will be casting her vote as a Lifetime Member of the Academy. It seems everyone's in town from all the great films of 2012 -- The Life of Pi, Beasts of the Southern Wild, Les Miserables, and Argo, to name just a few -- and CC has been busy making the rounds before the voting begins. And the winner is.......
---
Remembering Carroll Shelby
Carroll Shelby, the godfather of muscle cars, died on May 9. He was very special to Carol, who was part of the success and fame of Shelby's Cobra because of her song about the car, "Hey Little Cobra," a #1 hit in early 1964. "Hey Little Cobra" is the only car song written by a woman. Carol was interviewed on Tuesday, May 15, on K-Earth 101, with Gary Bryant in the Morning -- To hear this interview, just click here!


Here's a great remembrance of Carroll Shelby from wheels.ca --
http://www.wheels.ca/Columns/article/807380.
He and Carol were lifelong friends, and he'll be very much missed.
---
"Theme from Rocky" in Hyundai Super Bowl Commercial
Hyundai is using Carol's Oscar-nominated "Theme from Rocky" in one of their commercials to air during the Super Bowl.
What a compliment to the song, and what a compliment for Carol, too!
Click on the picture to see and hear the commercial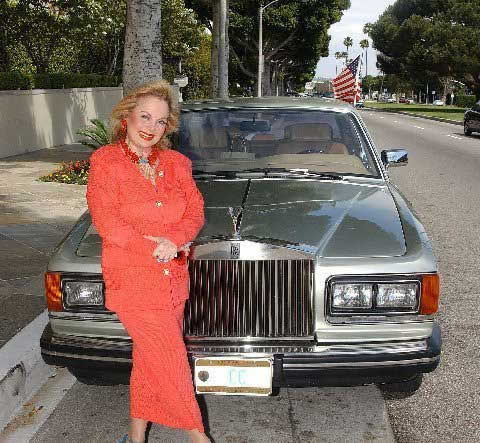 ---
---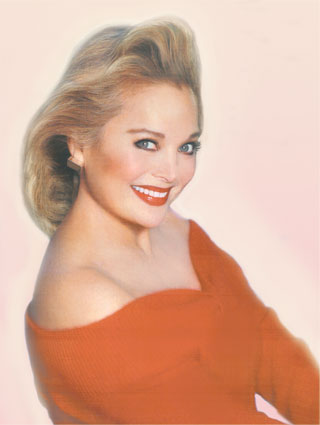 Check it out -- Carol's "In-D-News" again! This time, Carol is honored for her work in Indie films by Arts a la Carte, Your Everything Indie Magazine
---
From the latest issue of Splash Magazine, click on the picture below for an intimate portrait of Carol written by an old friend!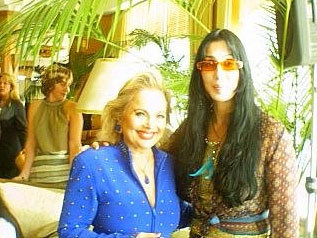 ---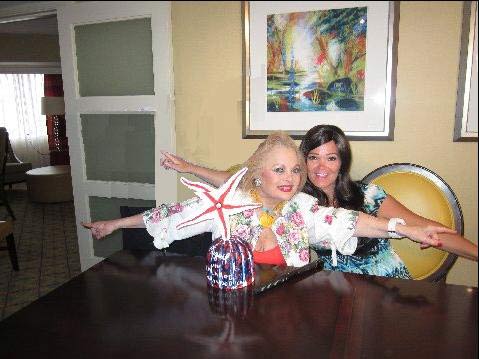 ---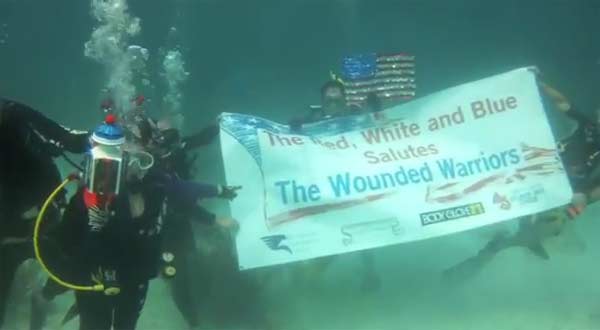 Directly from performing for The Wounded Warriors Trust at The Kennedy Center in Washington DC to The Florida Keys...2 Time Oscar Nominated Songwriter Carol Connors ( co-wrote the Theme Song from "Rocky", voice of "To Know Him is To Love Him", and recently seen on Victoria Beckham Coming to America giving her "dolphin call" ) dove into the Sea as "Lady Liberty", joined by Army Colonel Jason Psaltides and famed Diver Capt. Spencer Slate of Atlantis Dive Center in Key Largo, along with other Wounded Warriors, to raise awareness and funds for the charitable organization *www.woundedwarriorstrust.com . *
In the video clip above, under the sea, Carol is passing the torch to you and asking you to dive deep into your pockets to honor the soldiers who have given so much to keep us free.
---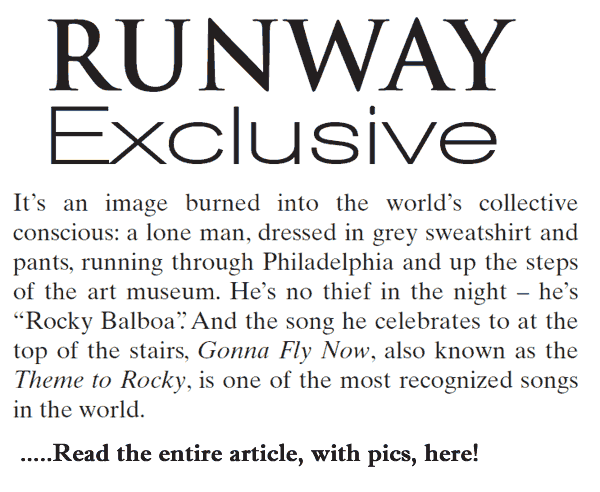 ---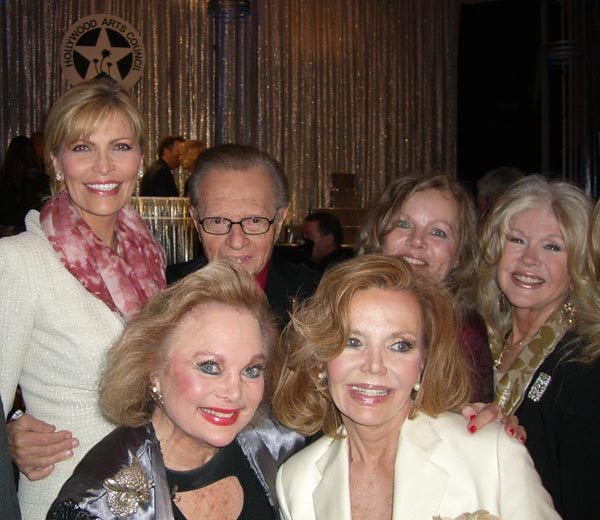 At the Hollywood Arts Council's 25th Annual Charlie Awards Luncheon in March, 2011, the legendary Larry King was honored for his significant contribution to the arts and Hollywood in the category of Media Arts. Shown here with Larry and Shawn King are Carol. honored by the HCA at past Charlie Awards, and several friends The gala luncheon was held in the Blossom Room of the famous Hollywood Roosevelt Hotel, the setting for the very first Oscars!
Carol Connors was singing the praises of Selina Naturally® to Larry King and the stars at the Hollywood Arts Council's Charlie Awards Luncheon. Pictured are Back Row Left to Right, Shawn King, Larry King), Merrie Lynn Ross , Connie Stevens. Front Row Left to Right, Carol Connors, Deanna Lund. Thanks to all who supported this great event! Carol sang America the Beautiful and America is truly beautiful! Larry and Shawn King loved her artistic interpretation a cappella.
---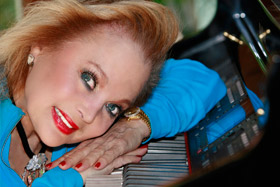 CC has been chosen as one of the 150 Most Beautiful People for a book with that title. Of course, she was chosen for the field of Music in Film/TV. "As you can see," she says, "I am right where I belong, at the 88's. It was the photographer's idea, not mine, to be hugging the Kawai piano -- and that is exactly what I did -- hug the 88's!"
---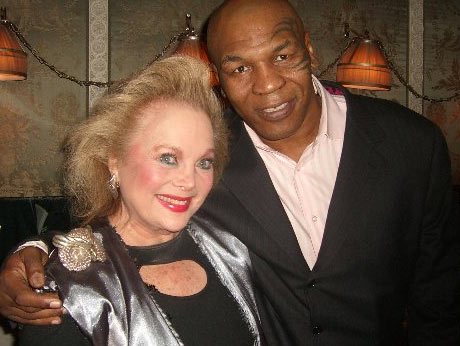 The legendary director of "Raging Bull" and former heavyweight champ Mike Tyson agree -- CC's a knockout!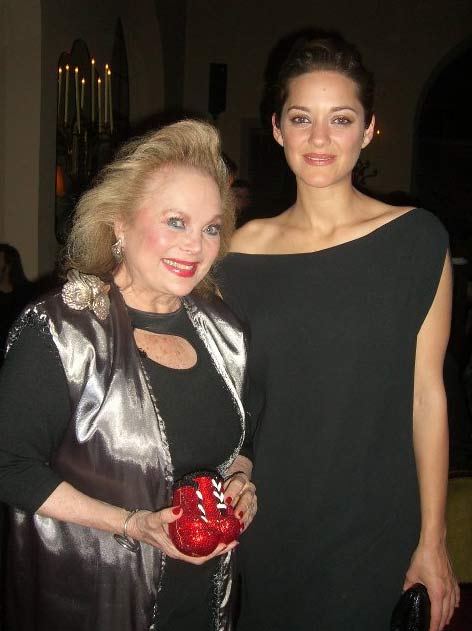 Marie Cotillard, 2009 Oscar winner for her portrayal of Edith Piaf in "La Vie en Rose" sang CC's praises! The Katherine Baumann jeweled boxing gloves were a gift at the time that "Rocky" won the Oscar.
---
CC grabbed her dancing shoes and samba'd on over to beautiful Brazil, to receive an award for her work on the film "Courting Condi".
---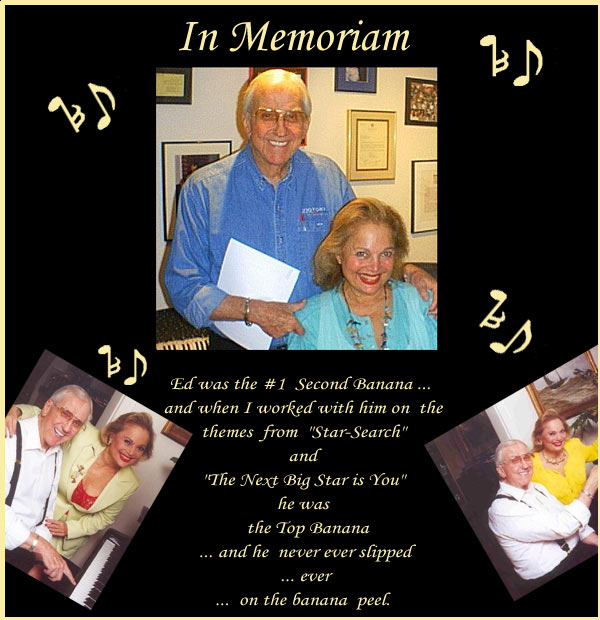 ---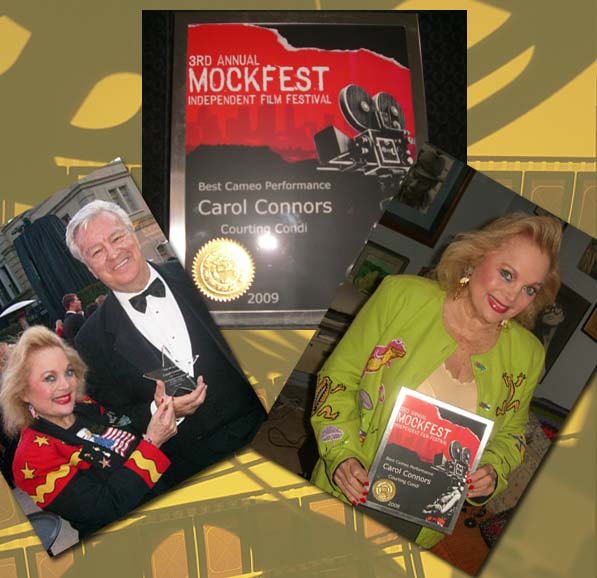 Two-time Oscar-nominated songwriter Carol Connors wins Best Cameo award for her performance in COURTING CONDI at Mockfest 2009 -- Carol is pictured here with her good friend Ron Masak, best remembered for his role as "Sheriff Matzger in Murder, She Wrote"
---
Carol is congratulated by the legendary director, Arthur Hiller, at the 2009 Tallahassee Film festival, for winning the award for Outstanding Achievement in Music for Film. The award was presented to Carol for her delightful music and lyrics for the movie "Courting Condi". Mr. Hiller is the award-winning director of many well-known films, including "Love Story".
---
Carol's sister, Cheryl Medow's art work is displayed in the background. See more of Cheryl's work at www.cherylmedow.com.
---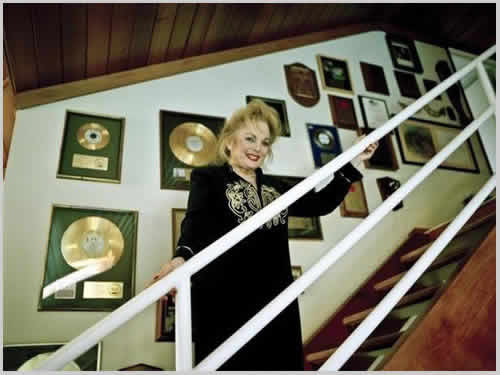 For a glimpse into my world of Music *NLyrics, read and enjoy this wonderful interview I did recently with Francesca Bowyer for Homestyles of the Rich and Gated.
See and Read it here
---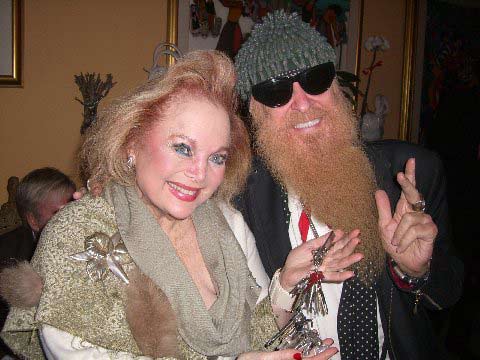 Who's that behind those Cheap Sunglasses? CC and ZZ!
---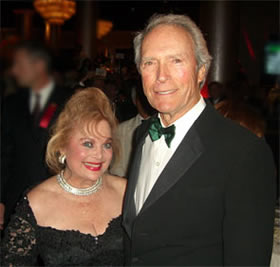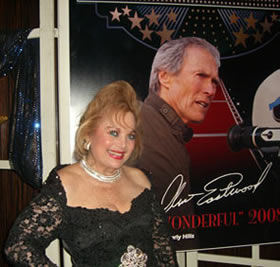 ---
She calls the dolphins and they come to her! CLICK HERE to check out CC's demonstration of her dolphin call, seen and heard by millions in the TV special, "Victoria Beckham: Coming to America."
Dolphin Lady -- CC speaks to the dolphins, and amazes kids and grown-ups alike, and thrills the dolphins. Here are four more links
This one's for Elvis
---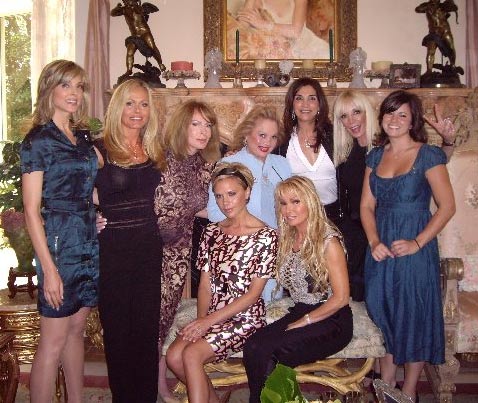 The Dolphin Call Lady and friends, with Victoria Beckham.
---
Be sure to watch CC this week on Nancy Grace and
Ashleigh Banfield on Court TV...Check TV Guide for local listings.

Also, listen to CC's insightful interview on CNN National Radio.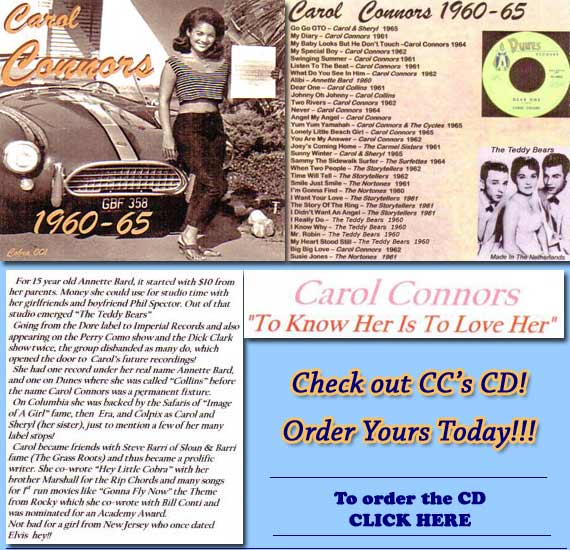 Play The Teddy Bears' hit song (3 weeks at #1 on Billboard)
To Know Him Is To Love Him (.mp3 file)
---
Cover Girl!

CC is featured on the cover of Clientele! Click on the cover (above) to go to the wonderful Clientele website. To read the article and find out how she keeps those fabulous good looks CLICK HERE! (See the difference five years has made, too!)

You'll need Adobe Reader to read the article.

Ifyou don't have it, click on thelogo to the right to download it for FREE.
---
All new and archived NEWS items can now be found on Carol's very own NEWS page. CLICK HERE for details>>
---
Share the excitement -- the photos will be posted here first! Imagine, now you can have Carol perform a song at your special corporate event.
CC (as she prefers being called) is an academy award singer/song writer and is currently working on projects across the globe.
Feel free to contact her manager, Rick Frio, at 323-851-6060. Or Email Rick. Or, Email Carol here.
Check out the Galleries section for some of CC's photos.